Theater peace work in Abkhazia*
In connection with the "Youth Leadership Program", Anina Jendreyko and Nadim Jarrar (Volksbühne Basel) were invited by DRC (danish refugee concil) and artasfoundation to Abkhazia for a theatre project.
Like many wars in recent decades, the conflict over Abkhazia was and is a conflict that was preceded by the political instrumentalisation of ethnic origins of cultures that had lived together for centuries. Mutual understanding, indeed appreciation of cultural diversity within a younger generation, is a prerequisite for the success of a civil society.
In the theatre work, the young people become sensitised to issues such as non-violent communication, the environment, gender roles – but above all, they experience successful cooperation, friendly conflict resolution and familiarity beyond prejudice, despite all the family influences of war and deprivation.
The Youth Leadership Programme of DRC (Danish Refugee Council), which has been working on the ground for many years, enables the young generation of Abkhazia's multilingual and multicultural communities to take part in joint workshops. The work of DRC, supported by artasfoundation, made the theatre work possible.
Basel director Anina Jendreyko and actor Nadim Jarrar are interested in everyday issues of young people, their role assignments and behaviour patterns. In March 2014, they are invited by artasfoundation to work in Abkhazia. Supported by a team from the DRC (Natia Belkania, Lela Rusia), they run several theatre workshops in spring and summer with 24 performers aged between 15 and 21. Across all ethnic differences, the young people come together as a playful and imaginative group, and a wealth of improvisations emerges, which they finally condense into a play. The fairy tale Snow White serves as the dramaturgical arc, which is familiar to all participants – whether they come from Swiss and German-Palestinian families like Anina and Nadim or are of Mingrelian, Georgian, Abkhazian or Russian origin and language like the young people.
The play "Lela" was publicly performed five times in October 2014 in a small tour through 10 communities from which the young people come. The performances took place in Ochamchyra, Pirveli Gali, Sukhum/i, Chegali and Chuburkhinji and reached a large, enthusiastic audience.
artasfoundation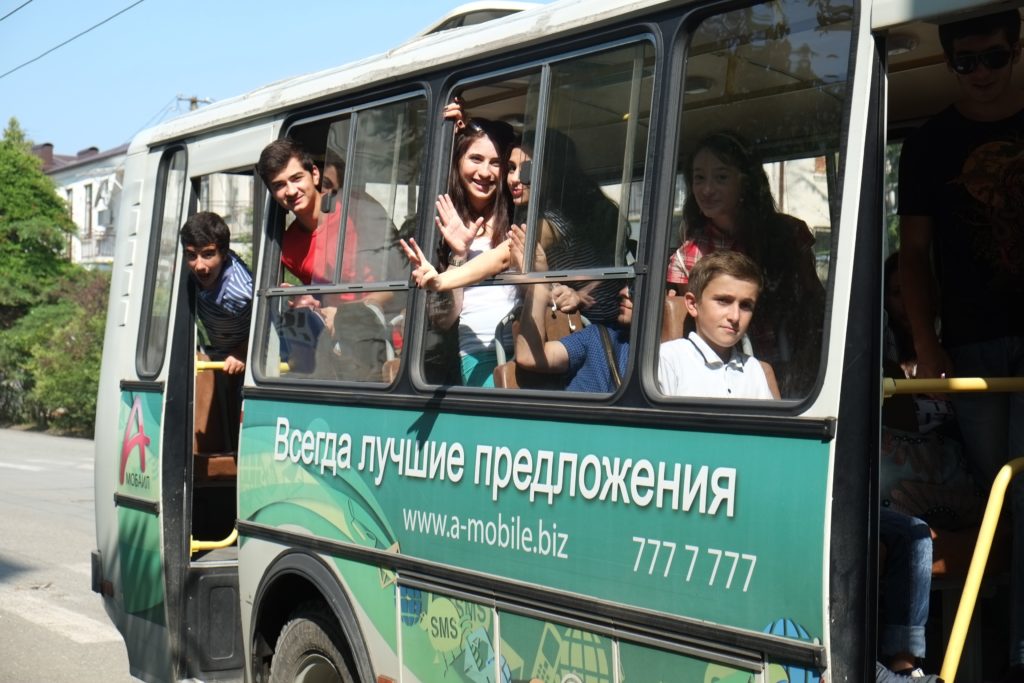 Place and year
Abkhazia, 2014
Participants
Ada, Arslan, Asmata, Barbare, Dato, Lika, Nino, Gela, Gina, Guram, Inal, Irakli, Lida, Maldina, Malvina, Mariam, Mariam, Mate, Milana, Natija, Pada, Shoti, Tado, Timor
Artistic direction
Anina Jendreyko
Nadim Jarrar
Project management
Dagmar Reichert (artasfoundation)
Annina Zimmermann (artasfoundation)
Interpreters
Angela Adzinba, Suchum/i
Partner organisations
Danish Refugee Council (DRC) in Gal/i (Vincent Dontot)
Stiftung Swisspeace, Bern
Task Force OSZE-Vorsitz Schweiz
Schweizer Botschaft in Georgien
Theater Gare du Nord, Basel
Financial contribution
Task Force OSZE-Vorsitz Schweiz
Swisslos Fonds Basel Stadt